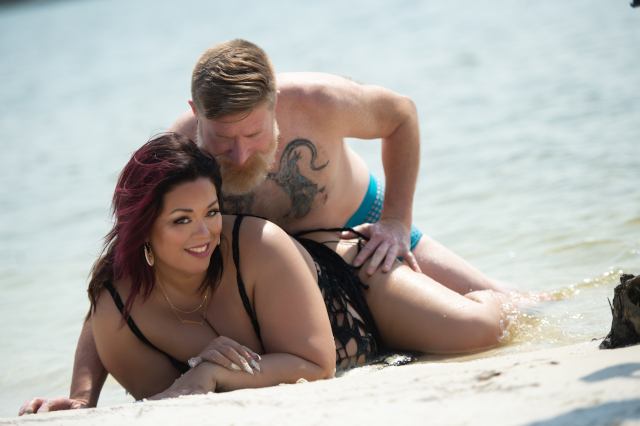 Intimate On Location Photography…
Worldwide Destination Boudoir
Yes, we followed them to
Gulf Shores, Alabama
!  How could we pass up doing an intimate couples photography shoot on the beautiful white sand beaches on the gulf?  Brandi and Joel were scheduled to be on Orange Beach to attend one of their favorite music festivals,
Hangout Fest
and we couldn't resist.
A question we are often asked – do we shoot on location?  You may not even have a chance to finish your sentence and I will be jumping up and down excitedly asking lots of questions. Where are you going?   When are you going?  Is there a beach?  Are you interested in photos?  We love what we do soooo much, that we WILL ask to join you on your vacation!  When women, men or couples happen to mention that they are traveling to a (especially a) beach spot, and we have an open spot on our calendar, chances are really good that we will ask to meet you there!   Take Brandi & Joel for example.  It really did happen like this.
Brandi posts on Facebook that she and Joel are making plans to take a trip to the Gulf Shores of Alabama for some (supposedly, I didn't know it) famous music festival – Hangout Fest.  (It turns out it is a REALLY big deal and legit music festival). I see her post and know that they would be fabulous in front of the camera AND she just so happened to have purchased a Black Friday couples session last year that she hadn't booked yet.  It didn't take me long before I was checking our calendar and messaging her to see if they really were going, and if they could find time to meet us at the beach.
Done.
But that's the kind of people Brandi & Joel are.  Easy going.  Playful.   Fun.  Accommodating.  And I just knew we had to make it happen.
So be careful what you ask for.  Be careful what you post on social media.  Your favorite photographer might just be lurking and ask to photograph you at the beach!
We are so lucky to live our passion each and every day! We love empowering women, men and especially couples as we document their journey together through our camera lens. The only thing that comes close to this for us when it comes to living our best life is travel and new experiences. So we decided one day "why not combine the two?" It started by traveling to a city we love, (Nashville was the first one) staying for a couple of weeks and photographing as many people as we could while we were there. We call them pop-up studios. We rent space in a city and and put out a call for women, men or couples to photograph. And icing on the cake is when we can do a photo shoot on a beach, or in a mountain meadow, an Aspen woods or on a client's boat.
Wait – it gets better!!!  Couples started contacting us saying "we are going to Jamaica for a special vacation" or "we are honeymooning in The Dominican, can you come?"   We haven't been to Greece yet, but it's on our list.  That is how destination erotic travel was born.
Yes, it cost more to be photographed in Greece than it does in a Pop-Up Studio, or in our Columbus home base but couples are loving the experience and we hear it all the time "We can't wait to do it again!"
Have you been thinking about an empowering intimate couples photoshoot and wondering about how you make it unique to who you are and what keeps you connected? Maybe you're one of those couples who love the outdoors, are warm and sensual, or hot and passionate. Maybe a fetish, or a kink, or an open lifestyle keeps things fresh. This will be your shoot and we want to capture who you are as a couple. For more info:
Intimate Couples photoshoot
.
Join our Patreon community to see more beautiful images, receive alerts and invitations to patron only events. Plus receive discounts and special promotions if you would like your own photo shoot.